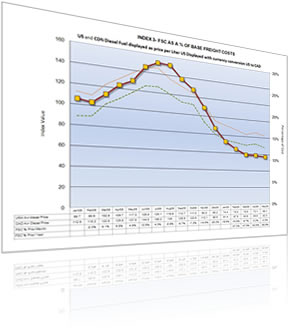 The Canadian General Freight Index highlights changes in the prices paid for freight transportation by Canadian shippers. The index represents general truck transportation, and excludes bulk, liquid and other specialty transportation services. Based on the largest database of actual freight costs in Canada, the index is the most comprehensive and accurate assessment of this important economic indicator available today.
Top level information is available free of charge to those who sign up for our monthly newsletter. To view these results now – click here.
More detailed information is also available to all Nulogx customers. If you are interested in becoming a customer, please contact Sales at Nulogx: 905-486-1162.
For more information on how the CGFI is calculated, please read the Methodology page.
About Nulogx
The CGFI is powered by Nulogx Inc, a leading Transportation Management Solutions company that provides information and services to strategically manage the transportation process and reduce costs. Nulogx's unique approach of combining Managed Services with a best in class Online TMS Application and the largest Freight Audit and Payment operation in Canada allows us to offer exceptional value to customers. As a processor of over $750M per year in freight transactions and representing nearly 1000 carriers, Nulogx is positioned to offer both strategic and tactical solutions to its customers. The creation of the CGFI is one example of these capabilities.
For more information on how Nulogx can assist your company in managing your transportation needs,
please visit www.nulogx.com.
Register for Free
Registration is Fast and Easy. Register to receive CGFI index results monthly in your inbox.